The Magazine
The Magazine
👩‍💻 Welcome to OPIT's blog! You will find relevant news on the education and computer science industry.
Search inside The Magazine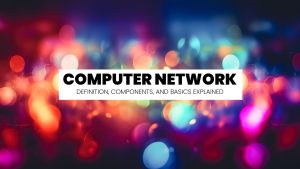 Understanding Computer Network: A Definition, Components, and Basics Explained
When you're faced with a task, you often wish you had the help of a friend. As they say, two heads are better than one, and collaboration can be the key to solving a problem or overcoming a challenge. With computer networks, we can say two nodes are better than one. These unique environments consist of at least two interconnected nodes that share and exchange data and resources, for which they use specific rules called "communications protocols." Every node has its position within the network and a name and address to identify it.
The possibilities of computer networks are difficult to grasp. They make transferring files and communicating with others on the same network a breeze. The networks also boost storage capacity and provide you with more leeway to meet your goals.
One node can be powerful, but a computer network with several nodes can be like a super-computer capable of completing challenging tasks in record times.
In this introduction to computer networks, we'll discuss the different types in detail. We'll also tackle their applications and components and talk more about network topologies, protocols, and security.
Components of a Computer Network
Let's start with computer network basics. A computer network is comprised of components that it can't function without. These components can be divided into hardware and software. The easiest way to remember the difference between the two is to know that software is something "invisible," i.e., stored inside a device. Hardware components are physical objects we can touch.
Hardware Components
Network interface cards (NICs) – This is the magic part that connects a computer to a network or another computer. There are wired and wireless NICs. Wired NICs are inside the motherboard and connect to cables to transfer data, while wireless NICs have an antenna that connects to a network.
Switches – A switch is a type of mediator. It's the component that connects several devices to a network. This is what you'll use to send a direct message to a specific device instead of the entire network.
Routers – This is the device that uses an internet connection to connect to a local area network (LAN). It's like a traffic officer who controls and directs data packets to networks.
Hubs – This handy component divides a network connection into multiple computers. This is the distribution center that receives information requests from a computer and places the information to the entire network.
Cables and connectors – Different types of cables and connectors are required to keep the network operating.
Software Components
Network operating system (NOS) – A NOS is usually installed on the server. It creates an adequate environment for sharing and transmitting files, applications, and databases between computers.
Network protocols – Computers interpret network protocols as guidelines for data communication.
Network services – They serve as bridges that connect users to the apps or data on a specific network.
Types of Computer Networks
Local Area Network (LAN)
This is a small, limited-capacity network you'll typically see in small companies, schools, labs, or homes. LANs can also be used as test networks for troubleshooting or modeling.
The main advantage of a local area network is convenience. Besides being easy to set up, a LAN is affordable and offers decent speed. The obvious drawback is its limited size.
Wide Area Network (WAN)
In many aspects, a WAN is similar to a LAN. The crucial difference is the size. As its name indicates, a WAN can cover a large space and can "accept" more users. If you have a large company and want to connect your in-office and remote employees, data centers, and suppliers, you need a WAN.
These networks cover huge areas and stretch across the globe. We can say that the internet is a type of a WAN, which gives you a good idea of how much space it covers.
The bigger size comes at a cost. Wide area networks are more complex to set up and manage and cost more money to operate.
Metropolitan Area Network (MAN)
A metropolitan area network is just like a local area network but on a much bigger scale. This network covers entire cities. A MAN is the golden middle; it's bigger than a LAN but smaller than a WAN. Cable TV networks are the perfect representatives of metropolitan area networks.
A MAN has a decent size and good security and provides the perfect foundation for a larger network. It's efficient, cost-effective, and relatively easy to work with.
As far as the drawbacks go, you should know that setting up the network can be complex and require the help of professional technicians. Plus, a MAN can suffer from slower speed, especially during peak hours.
Personal Area Network (PAN)
If you want to connect your technology devices and know nobody else will be using your network, a PAN is the way to go. This network is smaller than a LAN and can interconnect devices in your proximity (the average range is about 33 feet).
A PAN is simple to install and use and doesn't have components that can take up extra space. Plus, the network is convenient, as you can move it around without losing connection. Some drawbacks are the limited range and slower data transfer.
These days, you encounter PANs on a daily basis: smartphones, gaming consoles, wireless keyboards, and TV remotes are well-known examples.
Network Topologies
Network topologies represent ways in which elements of a computer network are arranged and related to each other. Here are the five basic types:
Bus topology – In this case, all network devices and computers connect to only one cable.
Star topology – Here, all eyes are on the hub, as that is where all devices "meet." In this topology, you don't have a direct connection between the devices; the hub acts as a mediator.
Ring topology – Device connections create a ring; the last device is connected to the first, thus forming a circle.
Mesh topology – In this topology, all devices belonging to a network are interconnected, making data sharing a breeze.
Hybrid topology – As you can assume, this is a mix of two or more topologies.
Network Protocols
Network protocols determine how a device connected to a network communicates and exchanges information. There are the five most common types:
Transmission Control Protocol/Internet Protocol (TCP/IP) – A communication protocol that interconnects devices to a network and lets them send/receive data.
Hypertext Transfer Protocol (HTTP) – This application layer protocol transfers hypertext and lets users communicate data across the World Wide Web (www).
File Transfer Protocol (FTP) – It's used for transferring files (documents, multimedia, texts, programs, etc.)
Simple Mail Transfer Protocol (SMTP) – It transmits electronic mails (e-mails).
Domain Name System (DNS) – It converts domain names to IP addresses through which computers and devices are identified on a network.
Network Security
Computer networks are often used to transfer and share sensitive data. Without adequate network security, this data could end up in the wrong hands, not to mention that numerous threats could jeopardize the network's health.
Here are the types of threats you should be on the lookout for:
Viruses and malware – These can make your network "sick." When they penetrate a system, viruses and malware replicate themselves, eliminating the "good" code.
Unauthorized access – These are guests who want to come into your house, but you don't want to let them in.
Denial of service attacks – These dangerous attacks have only one goal: making the network inaccessible to the users (you). If you're running a business, these attacks will also prevent your customers from accessing the website, which can harm your company's reputation and revenue.
What can you do to keep your network safe? These are the best security measures:
Firewalls – A firewall acts as your network's surveillance system. It uses specific security rules as guidelines for monitoring the traffic and spotting untrusted networks.
Intrusion detection systems – These systems also monitor your network and report suspicious activity to the administrator or collect the information centrally.
Encryption – This is the process of converting regular text to ciphertext. Such text is virtually unusable to everyone except authorized personnel who have the key to access the original data.
Virtual private networks (VPNs) – These networks are like magical portals that guarantee safe and private connections thanks to encrypted tunnels. They mask your IP address, meaning nobody can tell your real location.
Regular updates and patches – These add top-notch security features to your network and remove outdated features at the same time. By not updating your network, you make it more vulnerable to threats.
Reap the Benefits of Computer Networks
Whether you need a network for a few personal devices or want to connect with hundreds of employees and suppliers, computer networks have many uses and benefits. They take data sharing, efficiency, and accessibility to a new level.
If you want your computer network to function flawlessly, you need to take good care of it, no matter its size. This means staying in the loop about the latest industry trends. We can expect to see more AI in computer networking, as it will only make them even more beneficial.
Read the article
Have questions?
Visit our FAQ page or get in touch with us!
Email
Get in touch at hello@opit.com
We are international
We can speak in:
Request info