The Magazine
About OPIT
Discover the latest news and information about OPIT – Open Institute of Technology.
Search inside The Magazine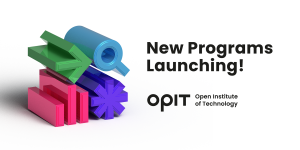 New OPIT Degrees launching (soon)!
Soon, we will be launching four new Degrees for AY24-25 at OPIT – Open Institute of Technology
I want to offer a behind-the-scenes look at the Product Definition process that has shaped these upcoming programs.
🚀 Phase 1: Discovery (Late May – End of July)
Our journey began with intensive brainstorming sessions with OPIT's Academic Board (Francesco Profumo, Lorenzo Livi, Alexiei Dingli, Andrea Pescino, Rosario Maccarrone) . We also conducted 50+ interviews with tech and digital entrepreneurs (both from startups and established firms), academics and students. Finally, we deep-dived into the "Future of Jobs 2023" report by the World Economic Forum and other valuable research.
🔍 Phase 2: Selection – Crafting Our Roadmap (July – August)
Our focus? Introducing new degrees addressing critical workforce shortages and upskilling/reskilling needs for the next 5-10 years, promising significant societal impact and a broad market reach.
Our decision? To channel our energies on full BScs and MScs, and steer away from shorter courses or corporate-focused offerings. This aligns perfectly with our core mission.
💡 Focus Areas Unveiled!
We're thrilled to concentrate on pivotal fields like:
Cybersecurity
Advanced AI
Digital Business
Metaverse & Gaming
Cloud Computing (less "glamorous", but market demand is undeniable).
🎓 Phase 3: Definition – Shaping the Degrees (August – November)
With an expert in each of the above fields, and with the strong collaboration of our Academic Director, Prof. Lorenzo Livi , we embarked on a rigorous "drill-down process". Our goal? To meld modern theoretical knowledge with cutting-edge competencies and skills. This phase included interviewing over 60+ top academics, industry professionals, and students and get valuable, program-specific, insights from our Marketing department.
🌟 Phase 4: Accreditation and Launch – The Final Stretch
We're currently in the accreditation process, gearing up for the launch. The focus is now shifting towards marketing, working closely with Greta Maiocchi and her Marketing and Admissions team. Together, we're translating our new academic offering into a compelling value proposition for the market.
Stay tuned for more updates!
Read the article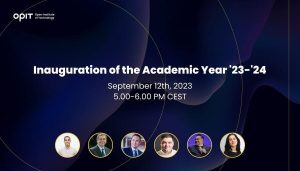 OPIT Academic Year Inauguration, Sept. 12th
With immense pride and anticipation, we announce the inaugural event for the OPIT – Open Institute of Technology academic year. As pioneers in the new era of Higher Education, this event encapsulates the very ethos of what OPIT represents. Not just an event, but the commencement of a journey to pave the way for the next generation of leaders in the field of IT.
Event Details
Date: September 12th, 2023
Time: 5.00-6.00 PM CEST
Platform: Online
Registration: Link
Event Schedule
In a world where AI and digital innovation are reshaping boundaries, institutions like OPIT emerge as guiding lights. Join us at this pivotal juncture as we navigate the AI-driven future, fortified by our dedication to education, foresight, and ambition.
Join us in marking the beginning of an era. Let's shape the future, together.
Register here for the event.
Read the article
Have questions?
Visit our FAQ page or get in touch with us!
Email
Get in touch at hello@opit.com
We are international
We can speak in:
Request info