Search inside The Magazine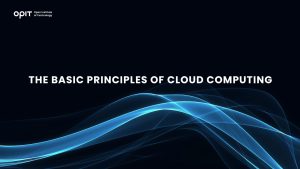 The Basics of Cloud Computing: Examples and Applications
According to Statista, the U.S. cloud computing industry generated about $206 billion in revenue in 2022. Expand that globally, and the industry has a value of $483.98 billion. Growth is on the horizon, too, with Grand View Research stating that the various types of cloud computing will achieve a compound annual growth rate (CAGR) of 14.1% between 2023 and 2030.
The simple message is that cloud computing applications are big business.
But that won't mean much to you if you don't understand the basics of cloud computing infrastructure and how it all works. This article digs into the cloud computing basics so you can better understand what it means to deliver services via the cloud.
The Cloud Computing Definition
Let's answer the key question immediately – what is cloud computing?
Microsoft defines cloud computing as the delivery of any form of computing services, such as storage or software, over the internet. Taking software as an example, cloud computing allows you to use a company's software online rather than having to buy it as a standalone package that you install locally on your computer.
For the super dry definition, cloud computing is a model of computing that provides shared computer processing resources and data to computers and other devices on demand over the internet.
Cloud Computing Meaning
Though the cloud computing basics are pretty easy to grasp – you get services over the internet – what it means in a practical context is less clear.
In the past, businesses and individuals needed to buy and install software locally on their computers or servers. This is the typical ownership model. You hand over your money for a physical product, which you can use as you see fit.
You don't purchase a physical product when using software via the cloud. You also don't install that product, whatever it may be, physically on your computer. Instead, you receive the services managed directly by the provider, be they storage, software, analytics, or networking, over the internet. You (and your team) usually install a client that connects to the vendor's servers, which contain all the necessary computational, processing, and storage power.
What Is Cloud Computing With Examples?
Perhaps a better way to understand the concept is with some cloud computing examples. These should give you an idea of what cloud computing looks like in practice:
Google Drive – By integrating the Google Docs suite and its collaborative tools, Google Drive lets you create, save, edit, and share files remotely via the internet.
Dropbox – The biggest name in cloud storage offers a pay-as-you-use service that enables you to increase your available storage space (or decrease it) depending on your needs.
Amazon Web Services (AWS) – Built specifically for coders and programmers, AWS offers access to off-site remote servers.
Microsoft Azure – Microsoft markets Azure as the only "consistent hybrid cloud." This means Azure allows a company to digitize and modernize their existing infrastructure and make it available over the cloud.
IBM Cloud – This service incorporates over 170 services, ranging from simple databases to the cloud servers needed to run AI programs.
Salesforce – As the biggest name in the customer relationship management space, Salesforce is one of the biggest cloud computing companies. At the most basic level, it lets you maintain databases filled with details about your customers.
Common Cloud Computing Applications
Knowing what cloud computing is won't help you much if you don't understand its use cases. Here are a few ways you could use the cloud to enhance your work or personal life:
Host websites without needing to keep on-site servers.
Store files and data remotely, as you would with Dropbox or Salesforce. Most of these providers also provide backup services for disaster recovery.
Recover lost data with off-site storage facilities that update themselves in real-time.
Manage a product's entire development cycle across one workflow, leading to easier bug tracking and fixing alongside quality assurance testing.
Collaborate easily using platforms like Google Drive and Dropbox, which allow workers to combine forces on projects as long as they maintain an internet connection.
Stream media, especially high-definition video, with cloud setups that provide the resources that an individual may not have built into a single device.
The Basics of Cloud Computing
With the general introduction to cloud computing and its applications out of the way, let's get down to the technical side. The basics of cloud computing are split into five categories:
Infrastructure
Services
Benefits
Types
Challenges
Cloud Infrastructure
The interesting thing about cloud infrastructure is that it simulates a physical build. You're still using the same hardware and applications. Servers are in play, as is networking. But you don't have the physical hardware at your location because it's all off-site and stored, maintained, and updated by the cloud provider. You get access to the hardware, and the services it provides, via your internet connection.
So, you have no physical hardware to worry about besides the device you'll use to access the cloud service.
Off-site servers handle storage, database management, and more. You'll also have middleware in play, facilitating communication between your device and the cloud provider's servers. That middleware checks your internet connection and access rights. Think of it like a bridge that connects seemingly disparate pieces of software so they can function seamlessly on a system.
Services
Cloud services are split into three categories:
Infrastructure as a Service (IaaS)
In a traditional IT setup, you have computers, servers, data centers, and networking hardware all combined to keep the front-end systems (i.e., your computers) running. Buying and maintaining that hardware is a huge cost burden for a business.
IaaS offers access to IT infrastructure, with scalability being a critical component, without forcing an IT department to invest in costly hardware. Instead, you can access it all via an internet connection, allowing you to virtualize traditionally physical setups.
Platform as a Service (PaaS)
Imagine having access to an entire IT infrastructure without worrying about all the little tasks that come with it, such as maintenance and software patching. After all, those small tasks build up, which is why the average small business spends an average of 6.9% of its revenue on dealing with IT systems each year.
PaaS reduces those costs significantly by giving you access to cloud services that manage maintenance and patching via the internet. On the simplest level, this may involve automating software updates so you don't have to manually check when software is out of date.
Software as a Service (SaaS)
If you have a rudimentary understanding of cloud computing, the SaaS model is the one you are likely to understand the most. A cloud provider builds software and makes it available over the internet, with the user paying for access to that software in the form of a subscription. As long as you keep paying your monthly dues, you get access to the software and any updates or patches the service provider implements.
It's with SaaS that we see the most obvious evolution of the traditional IT model. In the past, you'd pay a one-time fee to buy a piece of software off the shelf, which you then install and maintain yourself. SaaS gives you constant access to the software, its updates, and any new versions as long as you keep paying your subscription. Compare the standalone versions of Microsoft Office with Microsoft Office 365, especially in their range of options, tools, and overall costs.
Benefits of Cloud Computing
The traditional model of buying a thing and owning it worked for years. So, you may wonder why cloud computing services have overtaken traditional models, particularly on the software side of things. The reason is that cloud computing offers several advantages over the old ways of doing things:
Cost savings – Cloud models allow companies to spread their spending over the course of a year. It's the difference between spending $100 on a piece of software versus spending $10 per month to access it. Sure, the one-off fee ends up being less, but paying $10 per month doesn't sting your bank balance as much.
Scalability – Linking directly to cost savings, you don't need to buy every element of a software to access the features you need when using cloud services. You pay for what you use and increase the money you spend as your business scales and you need deeper access.
Mobility – Cloud computing allows you to access documents and services anywhere. Where before, you were tied to your computer desk if you wanted to check or edit a document, you can now access that document on almost any device.
Flexibility – Tied closely to mobility, the flexibility that comes from cloud computing is great for users. Employees can head out into the field, access the services they need to serve customers, and send information back to in-house workers or a customer relationship management (CRM) system.
Reliability – Owning physical hardware means having to deal with the many problems that can affect that hardware. Malfunctions, viruses, and human error can all compromise a network. Cloud service providers offer reliability based on in-depth expertise and more resources dedicated to their hardware setups.
Security – The done-for-you aspect of cloud computing, particularly concerning maintenance and updates, means one less thing for a business to worry about. It also absorbs some of the costs of hardware and IT maintenance personnel.
Types of Cloud Computing
The types of cloud computing are as follows:
Public Cloud – The cloud provider manages all hardware and software related to the service it provides to users.
Private Cloud – An organization develops its suite of services, all managed via the cloud but only accessible to group members.
Hybrid Cloud – Combines a public cloud with on-premises infrastructure, allowing applications to move between each.
Community Cloud – While the community cloud has many similarities to a public cloud, it's restricted to only servicing a limited number of users. For example, a banking service may only get offered to the banking community.
Challenges of Cloud Computing
Many a detractor of cloud computing notes that it isn't as issue-proof as it may seem. The challenges of cloud computing may outweigh its benefits for some:
Security issues related to cloud computing include data privacy, with cloud providers obtaining access to any sensitive information you store on their servers.
As more services switch over to the cloud, managing the costs related to every subscription you have can feel like trying to navigate a spider's web of software.
Just because you're using a cloud-based service, that doesn't mean said service handles compliance for you.
If you don't perfectly follow a vendor's terms of service, they can restrict your access to their cloud services remotely. You don't own anything.
You can't do anything if a service provider's servers go down. You have to wait for them to fix the issue, leaving you stuck without access to the software for which you're paying.
You can't call a third party to resolve an issue your systems encounter with the cloud service because the provider is the only one responsible for their product.
Changing cloud providers and migrating data can be challenging, so even if one provider doesn't work well, companies may hesitate to look for other options due to sunk costs.
Cloud Computing Is the Present and Future
For all of the challenges inherent in the cloud computing model, it's clear that it isn't going anywhere. Techjury tells us that about 57% of companies moved, or were in the process of moving, their workloads to cloud services in 2022.
That number will only increase as cloud computing grows and develops.
So, let's leave you with a short note on cloud computing. It's the latest step in the constant evolution of how tech companies offer their services to users. Questions of ownership aside, it's a model that students, entrepreneurs, and everyday people must understand.
Read the article
Have questions?
Visit our FAQ page or get in touch with us!
Email
Get in touch at hello@opit.com
We are international
We can speak in:
Request info