Search inside The Magazine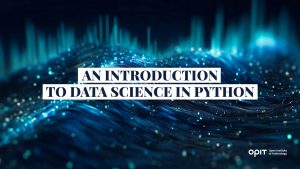 A Comprehensive Guide to Python for Data Science
As one of the world's fastest-growing industries, with a predicted compound annual growth rate of 16.43% anticipated between 2022 and 2030, data science is the ideal choice for your career. Jobs will be plentiful. Opportunities for career advancement will come thick and fast. And even at the most junior level, you'll enjoy a salary that comfortably sits in the mid-five figures.
Studying for a career in this field involves learning the basics (and then the complexities) of programming languages including C+, Java, and Python. The latter is particularly important, both due to its popularity among programmers and the versatility that Python brings to the table. Here, we explore the importance of Python for data science and how you're likely to use it in the real world.
Why Python for Data Science?
We can distill the reasons for learning Python for data science into the following five benefits.
Popularity and Community Support
Statista's survey of the most widely-used programming languages in 2022 tells us that 48.07% of programmers use Python to some degree. Leftronic digs deeper into those numbers, telling us that there are 8.2 million Python developers in the world. As a prospective developer yourself, these numbers tell you two things – Python is in demand and there's a huge community of fellow developers who can support you as you build your skills.
Easy to Learn and Use
You can think of Python as a primer for almost any other programming language, as it takes the fundamental concepts of programming and turns them into something practical. Getting to grips with concepts like functions and variables is simpler in Python than in many other languages. Python eventually opens up from its simplistic use cases to demonstrate enough complexity for use in many areas of data science.
Extensive Libraries and Tools
Given that Python was first introduced in 1991, it has over 30 years of support behind it. That, combined with its continued popularity, means that novice programmers can access a huge number of tools and libraries for their work. Libraries are especially important, as they act like repositories of functions and modules that save time by allowing you to benefit from other people's work.
Integration With Other Programming Languages
The entire script for Python is written in C, meaning support for C is built into the language. While that enables easy integration between these particular languages, solutions exist to link Python with the likes of C++ and Java, with Python often being capable of serving as the "glue" that binds different languages together.
Versatility and Flexibility
If you can think it, you can usually do it in Python. Its clever modular structure, which allows you to define functions, modules, and entire scripts in different files to call as needed, makes Python one of the most flexible programming languages around.
Setting Up Python for Data Science
Installing Python onto your system of choice is simple enough. You can download the language from the Python.org website, with options available for everything from major operating systems (Windows, macOS, and Linux) to more obscure devices.
However, you need an integrated development environment (IDE) installed to start coding in Python. The following are three IDEs that are popular with those who use Python for data science:
Jupyter Notebook – As a web-based application, Jupyter easily allows you to code, configure your workflows, and even access various libraries that can enhance your Python code. Think of it like a one-stop shop for your Python needs, with extensions being available to extend its functionality. It's also free, which is never a bad thing.
PyCharm – Where Jupyter is an open-source IDE for several languages, PyCharm is for Python only. Beyond serving as a coding tool, it offers automated code checking and completion, allowing you to quickly catch errors and write common code.
Visual Studio Code – Though Visual Studio Code alone isn't compatible with Python, it has an extension that allows you to edit Python code on any operating system. Its "Linting" feature is great for catching errors in your code, and it comes with an integrated debugger that allows you to test executables without physically running them.
Setting up your Python virtual environment is as simple as downloading and installing Python itself, and then choosing an IDE in which to work. Think of Python as the materials you use to build a house, with your IDE being both the blueprint and the tools you'll need to patch those materials together.
Essential Python Libraries for Data Science
Just as you'll go to a real-world library to check out books, you can use Python libraries to "check out" code that you can use in your own programs. It's actually better than that because you don't need to return libraries when you're done with them. You get to keep them, along with all of their built-in modules and functions, to call upon whenever you need them. In Python for data science, the following are some essential libraries:
NumPy – We spoke about integration earlier, and NumPy is ideal for that. It brings concepts of functionality from Fortran and C into Python. By expanding Python with powerful array and numerical computing tools, it helps transform it into a data science powerhouse.
pandas – Manipulating and analyzing data lies at the heart of data sciences, and pandas give you a library full of tools to allow both. It offers modules for cleaning data, plotting, finding correlations, and simply reading CSV and JSON files.
Matplotlib – Some people can look at reams of data and see patterns form within the numbers. Others need visualization tools, which is where Matplotlib excels. It helps you create interactive visual representations of your data for use in presentations or if you simply prefer to "see" your data rather than read it.
Scikit-learn – The emerging (some would say "exploding) field of machine learning is critical to the AI-driven future we're seemingly heading toward. Scikit-learn is a library that offers tools for predictive data analysis, built on what's available in the NumPy and Matplotlib libraries.
TensorFlow and Keras – Much like Scikit-learn, both TensorFlow and Keras offer rich libraries of tools related to machine learning. They're essential if your data science projects take you into the realms of neural networks and deep learning.
Data Science Workflow in Python
A Python programmer without a workflow is like a ship's captain without a compass. You can sail blindly onward, and you may even get lucky and reach your destination, but the odds are you're going to get lost in the vastness of the programming sea. For those who want to use Python for data science, the following workflow brings structure and direction to your efforts.
Step 1 – Data Collection and Preprocessing
You need to collect, organize, and import your data into Python (as well as clean it) before you can draw any conclusions from it. That's why the first step in any data science workflow is to prepare the data for use (hint – the pandas library is perfect for this task).
Step 2 – Exploratory Data Analysis (EDA)
Just because you have clean data, that doesn't mean you're ready to investigate what that data tells you. It's like washing ingredients before you make a dish – you need to have a "recipe" that tells you how to put everything together. Data scientists use EDA as this recipe, allowing them to combine data visualization (remember – the Matplotlib library) with descriptive statistics that show them what they're looking at.
Step 3 – Feature Engineering
This is where you dig into the "whats" and "hows" of your Python program. You'll select features for the code, which define what it does with the data you import and how it'll deliver outcomes. Scaling is a key part of this process, with scope creep (i.e., constantly adding features as you get deeper into a project) being the key thing to avoid.
Step 4 – Model Selection and Training
Decision trees, linear regression, logistic regression, neural networks, and support vector machines. These are all models (with their own algorithms) you can use for your data science project. This step is all about selecting the right model for the job (your intended features are important here) and training that model so it produces accurate outputs.
Step 5 – Model Evaluation and Optimization
Like a puppy that hasn't been house trained, an unevaluated model isn't ready for release into the real world. Classification metrics, such as a confusion matrix and classification report, help you to evaluate your model's predictions against real-world results. You also need to tune the hyperparameters built into your model, similar to how a mechanic may tune the nuts and bolts in a car, to get everything working as efficiently as possible.
Step 6 – Deployment and Maintenance
You've officially deployed your Python for data science model when you release it into the wild and let it start predicting outcomes. But the work doesn't end at deployment, as constant monitoring of what your model does, outputs, and predicts is needed to tell you if you need to make tweaks or if the model is going off the rails.
Real-World Data Science Projects in Python
There are many examples of Python for data science in the real world, some of which are simple while others delve into some pretty complex datasets. For instance, you can use a simple Python program to scrap live stock prices from a source like Yahoo! Finance, allowing you to create a virtual ticker of stock price changes for investors.
Alternatively, why not create a chatbot that uses natural language processing to classify and respond to text? For that project, you'll tokenize sentences, essentially breaking them down into constituent words called "tokens," and tag those tokens with meanings that you could use to prompt your program toward specific responses.
There are plenty of ideas to play around with, and Python is versatile enough to enable most, so consider what you'd like to do with your program and then go on the hunt for datasets. Great (and free) resources include The Boston House Price Dataset, ImageNet, and IMDB's movie review database.
Try Python for Data Science Projects
By combining its own versatility with integrations and an ease of use that makes it welcoming to beginners, Python has become one of the world's most popular programming languages. In this introduction to data science in Python, you've discovered some of the libraries that can help you to apply Python for data science. Plus, you have a workflow that lends structure to your efforts, as well as some ideas for projects to try. Experiment, play, and tweak models. Every minute you spend applying Python to data science is a minute spent learning a popular programming language in the context of a rapidly-growing industry.
Read the article
Have questions?
Visit our FAQ page or get in touch with us!
Email
Get in touch at hello@opit.com
We are international
We can speak in:
Request info