The Magazine
Best of
Discover the best courses in Computer Science, Data Science, Machine Learning & AI. Find top-notch educational resources to enhance your skills.
Search inside The Magazine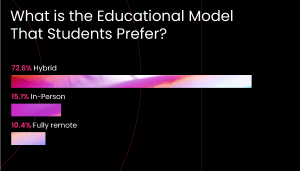 What is the Educational Model That Students Prefer?
For 68% of Italian students, the perfect training opens up the world of work and connects them to companies. And 72% of students prefer the hybrid educational model.
The data comes from a survey of 1,600 members of the Docsity community by OPIT – The Open Institute of Technology.
OPIT founder Riccardo Ocleppo states: "Students need more practical learning and skills that allow for a faster and more profitable entry into a company."
Milan, 19 June 2023 – Italian students aged between 18 and 26 prefer educational and training offerings based on the hybrid models and a focus on up-to-date training provided by quality teaching staff. They're also less likely to believe that the name of a university is enough to guarantee job opportunities upon graduating. These are some of the chief findings to emerge from an OPIT survey of 1,600 students (secondary level and university) who are part of the Docsity community – a platform for sharing documents and interesting content – just a few days before the beginning of final exams.
The results show that students consider job opportunities and connections with companies as the main factors when evaluating study opportunities (68%). Cost is also an important criterion (39.6%), as is the updating of teaching methods and practical aspects of the course to ensure they're aligned with today's work environment (33.1%). Furthermore, 21.7% of those surveyed note the quality of the teaching staff as being crucial to helping them absorb the skills they need to succeed as workers in the future. The "name" and reputation of a university of training provider only matters to 13% of those surveyed.
"The data confirms what we had foreseen when we decided to enter the education market," says OPIT's founder and director Riccardo Ocleppo. "Involving companies in our programs was a top priority, and their insights were instrumental in designing the modules we created, including what technologies to rely on and the programming languages we work with, for example."
"By working with companies to design our programs, we've found that students both require and prefer a much more hands-on learning experience. This ensures they're up to date on current technologies, processes, and ways of working when they join a company. So, our goal for our students is that they leave OPIT feeling much more knowledgeable about what employers really need from them."
As far as learning methods are concerned, students prefer the hybrid model – having the opportunity to participate in face-to-face lessons while retaining the flexibility to access course content online or even via a fully remote model based on their needs.  Amongst university students, 72.6% say they prefer the hybrid model, unlike secondary students, who retain a preference for my "physical" styles of teaching.
When secondary students were asked about their choice of university, 46% of boys and girls indicated engineering, computer science, and STEM as their preferred fields. Humanities and communication followed (20.6%), with economics taking the third spot (17.9%).
"Rapid developments in technology and artificial intelligence," continues Ocleppo, "are creating new job opportunities for STEM graduates, which current students clearly understand. Specific skills are becoming increasingly important as enterprises move more and more to make the most out of the changes brought by AI. Yet, the shortage of tech workers is expected to grow even faster in the coming years. Despite the concern that the wave of AI-inspired technologies is creating, there is no doubt there will be demand for certain types of professionals with specific technical skills."
OPIT's data also indicates a widespread trend toward the continuation of studies beyond initial certification, belying the more pessimistic readings on the growth of the NEET (Not in Education, Employment, or Training) phenomenon. Enrolling in a degree course remains both the safest and preferred choice for the majority of secondary school students – 82% confirmed their intention to continue their studies at the university level. A further 8.3% are undecided about university, while 5% will choose short training courses, with only 2.5% of students surveyed saying they'll stop education after their fifth-grade exams. Accredited training (university, business school, or some other form of higher education) remains the preferred choice of almost all students (94.6%).
Delving deeper into a behavioral analysis of university students, an interesting preference for further continuation of studies emerges. Over two-thirds (68%) say they wish to continue, demonstrating that a Bachelor's degree alone is not seen as the ideal pathway into the world of work. In fact, of those who declared a willingness to continue studying after submitting their Bachelor's thesis, 90% said they want to enroll in a new long-term study program – either a second Bachelor's degree or a Master's degree. It's also significant that more university students are undecided about continuing their educations (22%) than those who are convinced they'll finish studying permanently upon completion of their degrees (10%).
Asked about what will be most important in a future where they will have to grapple with various AI-led transitions, over half of students (56%) believe it's essential to understand artificial intelligence and its applications. This was followed by digital marketing (42%), with cybersecurity identified by one in three students (35%) as key due to the job opportunities in that field linked to the need to protect growing amounts of personal data. Fintech closed this ranking at 3%.
OPIT – Open Institute of Technology is an academic institution accredited at the European level that provides an exclusively online training offer focused on Computer Science and a teaching staff made up of professors of international standing. OPIT stands out in the panorama of university-level training for a didactic model shaped by the need for quality, flexibility, and connection with the business world of upcoming generations. OPIT's degree programs are oriented towards the acquisition of modern and up-to-date skills in the crucial sector of computer science. Its degrees are accredited by the MFHEA and the EQF (European Qualification Framework), and professionally recognized by employers.
Read the article
Have questions?
Visit our FAQ page or get in touch with us!
Email
Get in touch at hello@opit.com
We are international
We can speak in:
Request info