Search inside The Magazine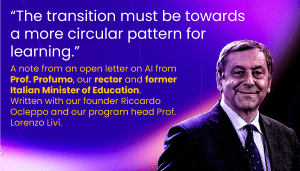 The AI ​​Era Requires a More Flexible and Affordable Model for Higher Education
AI, and its integration with society, had an incredible acceleration in recent months. By now, it seems certain that AI will be the fourth GPT (General Purpose Technology) of human history: one of those few technologies or inventions that radically and indelibly change society. The last of these technologies was ICT (internet, semiconductor industry, telecommunications); before this, electricity and the steam engine were the first 2 GPTs.
All three GPTs had a huge impact on the overall productivity and advancement of our society with, of course, a profound impact on the world of work. Such an impact, though, was very different across these technologies. The advent of electricity and the steam motor allowed the displacement of large masses of workers from more archaic and manual jobs to their equivalent jobs in the new industrial era, where not many skills were required. The advent of ICT, on the other hand, has generated enormous job opportunities, but also the need to develop meaningful skills to pursue them.
As a result, an increasingly large share of the economic benefit deriving from the advent of ICT has gradually been polarized towards people who had (and have) these skills in society. Suffice it to say that, already in 2017, the richest 1% of America owned twice the wealth of the "poorest" 90%.
It is difficult to make predictions about how the advent of AI will impact this trend already underway. But there are some very clear elements: one of these is that quality education in technology (and not only) will increasingly play a primary role in being able to secure the best career opportunities for a successful future in this new era.
To play a "lead actor" role in this change, though, the world of education – and in particular that of undergraduate and postgraduate education – requires a huge change towards being much more flexible, aligned to today's needs of students and companies, and affordable.
Let's take a step back: we grew up thinking that "
learning
" meant following a set path. Enroll in elementary school, attend middle and high school, and, for the luckiest or most ambitious, conclude by taking a degree.
This model needs to be seriously challenged and adapted to the times: solid foundational learning remains an essential prerogative. But in a "fast" world in rapid change like today's, knowledge acquired along this "linear" path will not be able to accompany people in their professions until the end of their careers. The "utility period" of the knowledge we acquire today reduces every day, and this emphasizes how essential continuous learning is throughout our lives.
The transition must therefore be towards a more circular pattern for learning. A model in which one returns "to the school desk" several times in life, in order to update oneself, and forget "obsolete" knowledge, making room for new production models, new ways of thinking, organizing, and new technologies.
In this context, Education providers must rethink the way they operate and how they intend to address this need for lifelong learning.
Higher Education Institutions, as accredited bodies and guarantors of the quality of education (OPIT – Open Institute of Technology among these), have the honor of playing a primary role in this transition.
But also the great burden of rethinking their model from scratch which, in a digital age, cannot be a pure and simple digital transposition of the old analog learning model.
The Institutions Universities are called upon to review and keep updated their own study programmes, think of new, more flexible and faster ways of offering them to a wider public, forge greater connections with companies, and ultimately provide them with students who are immediately ready to successfully enter the dynamics of production. And, of course, be more affordable and accessible: quality education in the AI era cannot cost tens of thousands of dollars, and needs to be accessed from wherever the students are.
With OPIT – Open Institute of Technology, this is the path we have taken, taking advantage of the great privilege of being able to start a new path, without preconceptions or "attachment" to the past. We envision a model of a new, digital-first, higher education institution capable of addressing all the points above, and accompany students and professionals throughout their lifetime learning journey.
We are at the beginning, and we hope that the modern and fresh approach we are following can be an interesting starting point for other universities as well.
Authors
Prof. Francesco Profumo, Rector of OPIT – Open Institute of Technology
Former Minister of Education, University and Research of Italy, Academician and author, former President of the National Research Council of Italy, and former Rector of Politecnico di Torino. He is an honorary member of various scientific associations.
Riccardo Ocleppo, Managing Director of OPIT
Founder of OPIT, Founder of Docsity.com, one of the biggest online communities for students with 19+ registered users. MSc in Management at London Business School, MSc in Electronics Engineering at Politecnico di Torino
Prof. Lorenzo Livi, Programme Head at OPIT
Former Associate Professor of Machine Learning at the University of Manitoba, Honorary Senior Lecturer at the University of Exeter, Ph.D. in Computer Science at Università La Sapienza.
Read the article
Have questions?
Visit our FAQ page or get in touch with us!
Email
Get in touch at hello@opit.com
We are international
We can speak in:
Request info