The Magazine
The Magazine
👩‍💻 Welcome to OPIT's blog! You will find relevant news on the education and computer science industry.
Search inside The Magazine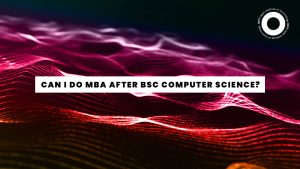 Can I Do MBA After a BSc in Computer Science?
With your BSc in Computer Science achieved, you have a ton of technical knowledge in coding, systems architecture, and the general "whys" and "hows" of computing under your belt. Now, you face a dilemma, as you're entering a field that over 150,000 people study for per year, meaning competition is rife.
That huge level of competition makes finding a new career difficult, as UK-based computer science graduates discovered in the mid-2010s when the saturation of the market led to an 11% unemployment rate. To counter that saturation, you may find the siren's call of the business world tempts you toward continuing your studies to obtain an MBA.
So, the question is – can I do MBA after Computer Science?
This article offers the answers.
Understanding the MBA Degree
MBAs exist to equip students with the knowledge (both technical and practical) to succeed in the business world. For computer science graduates, that may mean giving them the networking and soft skills they need to turn their technical knowledge into career goldmines, or it could mean helping them to start their own companies in the computing field.
Most MBAs feature six core subjects:
Finance – Focused on the numbers behind a business, this subject is all about learning how to balance profits, losses, and the general costs of running a business.
Accounting – Building on the finance subject, accounting pulls students into the weeds when it comes to taxes, operating expenses, and running a healthy company.
Leadership – Soft skills are just as important as hard skills to a business student, with leadership subjects focusing on how to inspire employees and foster teamwork.
Economic Statistics – The subject that most closely relates to a computer science degree, economic statistics is all about processing, collecting, and interpreting technical data.
Accountability/Ethics – With so many fields having strict compliance criteria (coupled with the ethical conundrums that arise in any business), this subject helps students navigate potential legal and ethical minefields.
Marketing – Having a great product or service doesn't always lead to business success. Marketing covers what you do to get what you have to offer into the public eye.
Beyond the six core subjects, many MBAs offer students an opportunity to specialize via additional courses in the areas that interest them most. For instance, you could take courses in entrepreneurship to bolster your leadership skills and ethical knowledge, or focus on accounting if you're more interested in the behind-the-scenes workings of the business world.
As for career opportunities, you have a ton of paths you can follow (with your computer science degree offering more specialized career routes). Those with an MBA alone have options in the finance, executive management, and consulting fields, with more specialized roles in IT management available to those with computer science backgrounds.
Eligibility for MBA After BSc Computer Science
MBAs are attractive to prospective post-graduate students because they have fairly loose requirements, at least when compared to more specialized further studies. Most MBA courses require the following before they'll accept a student:
A Bachelor's degree in any subject, as long as that degree comes from a recognized educational institution
English language proficiency

This is often tested using either the TOEFL or IELTS tests

A pair of recommendation letters, which can come from employers or past teachers
Your statement of purpose defining why you want to study for an MBA
A resume
A Graduate Management Admissions Test (GMAT) score

You'll receive a score between 200 and 800, with the aim being to exceed the average of 574.51
Interestingly, some universities offer MBAs in Computer Science, which are the ideal transitional courses for those who are wary of making the jump from a more technical field into something business-focused. Course requirements are similar to those for a standard MBA, though some universities also like to see that you have a couple of years of work experience before you apply.
Benefits of Pursuing an MBA After BSc Computer Science
So, the answer to "Can I do MBA after BSc Computer Science," is a resounding "yes," but we still haven't confronted why that's a good choice. Here are five reasons:
Diversify your skill set – While your skill set after completing a computer science degree is extremely technical, you may not have many of the soft skills needed to operate in a business environment. Beyond teaching leadership, management, and teamwork, a good MBA program also helps you get to grips with the numbers behind a business.
Expand career opportunities – There is no shortage of potential roles for computer science graduates, though the previously mentioned study data shows there are many thousands of people studying the same subject. With an MBA to complement your knowledge of computers, you open the door to career opportunities in management fields that would otherwise not be open to you.
Enhance leadership and management skills – Computer science can often feel like a solitary pursuit, as you spend more time behind a keyboard than you do interacting with others. MBAs are great for those who need a helping hand with their communication skills. Plus, they're ideal for teaching the organizational aspects of running (or managing) a business.
Potential for higher salary and career growth – According to Indeed, the average salary in the computer science field is $103,719. Figures from Seattle University suggest those with MBAs can far exceed that average, with the figures it quotes from the industry journal Poets and Quants suggesting an average MBA salary of $140,924.
Challenges and Considerations
As loose as the academic requirements for being accepted to an MBA may be (at least compared to other subjects), there are still challenges to confront as a computer science graduate or student.
The time and financial investments – Forbes reports the average cost of an MBA in the United States to be $61,800. When added to the cost of your BSc in Computer Science, it's possible you'll face near-six-figure debt upon graduating. Couple that monetary investment with the time taken to get your MBA (it's a full-time course) and you may have to put more into your studies than you think.
Balancing your technical and managerial skills – Computer science focuses on the technical side, which is only one part of an MBA. While the skills you have will come to the fore when you study accounting or economic statistics, the people-focused aspects of an MBA may be a challenge.
Adjusting to a new academic environment – You're switching focus from the computer screen to a more classroom-led learning environment. Some may find this a challenge, particularly if they appreciate the less social aspects of computer science.
MBA Over Science – The Thomas Henson Story
After completing his Bachelor's degree in computer information systems, Thomas Henson faced a choice – start a Master's degree in science or study for his MBA. Having worked as a software engineer for six months following his graduation, he wanted to act fast to get his Masters's done and dusted, opening up new career opportunities in the process.
Eventually, he chose an MBA and now works as a senior software engineer specializing in the Hortonworks Data Platform. On his personal blog, he shares why he chose an MBA over a Master's degree in computer science, with his insights possibly helping others make their own choice:
Listen to the people around you (especially teachers and mentors) and ask them why they've chosen their career and study paths.
Compare programs (both comparing MBAs against one another and comparing MBAs to other post-graduate degrees) to see which courses serve your future ambitions best.
Follow your passion (James loved accounting) as the most important thing is not necessarily the post-graduate course you take. The most important thing is that you finish.
Choosing the Right MBA Program
Finding the right MBA program means taking several factors into consideration, with the following four being the most important:
Reputation and accreditation – The reputation of the institution you choose, as well as the accreditation it holds, plays a huge role in your decision. Think of your MBA as a recommendation. That recommendation doesn't mean much if it comes from a random person in the street (i.e., an institution nobody knows), but it carries a lot of weight if it comes from somebody respected.
Curriculum and specialization – As Thomas Henson points out, what drives you most is what will lead you to the right MBA. In his case, he loved accounting enough to make an MBA a possibility, and likely pursued specializations in that area. Ask yourself what you specifically aim to achieve with your MBA and look for courses that move you closer to that goal.
Networking opportunities – As anybody in the business world will tell you, who you know is often as important as what you know. Look for a course that features respected lecturers and professors, as they have connections that you can exploit, and take advantage of any opportunities to go to networking events or join professional associations.
Financial aid and scholarships – Your access to financial aid depends on your current financial position, meaning it isn't always available. Scholarships may be more accessible, with major institutions like Harvard and Columbia Business School offering pathways into their courses for those who meet their scholarship requirements.
Speaking of Harvard and Columbia, it's also a good idea to research some of the top business schools, especially given that the reputation of your school is as important as the degree you earn. Major players, at least in the United States, include:
Harvard Business School
Columbia Business School
Wharton School of Business
Yale School of Management
Stanford Graduate School of Business
Become a Business-Minded Computer Buff
With the technical skills you earned from your BSc in Computer Science, you'll be happy to find that the answer to "Can I do MBA after BSc Computer Science?" is "Yes." Furthermore, it's recommended as an MBA can equip you with soft skills, such as communication and leadership, that you may not receive from your computing studies. Ultimately, the combination of tech-centric and business skills opens the door to new career paths, with the average earnings of an MBA student outclassing those of computer science graduates.
Your choice comes down to your passion and the career you wish to pursue. If management doesn't appeal to you, an MBA is likely a waste of time (and over $60,000), whereas those who want to apply their tech skills to the business world will get a lot more out of an MBA.
Read the article
Have questions?
Visit our FAQ page or get in touch with us!
Email
Get in touch at hello@opit.com
We are international
We can speak in:
Request info